In 2020, as a result of the Corona crisis, massive homeworking will again be taking place. To my surprise – and that of many managers – things often go better instead of worse. The team members enjoy their work more and get more work done.
This worldwide 'experiment' teaches a lot about how we organize organizations and what happens if you remove impeding factors. The Shopify CEO even sees a trend: "The days of office centricity are over." We are going to reinvent the place where we work and that is great. It should be noted that working from home should not take too long so that team cohesion is preserved.
Tip : in the cyan part of the LSD series you can read – from the factors that make a team powerful – more about why working from home works so much better for some teams.
---
---
INFORMATION ABOUT WORKING AT HOME
On this page you will find a number of links to information about the pros and cons of working from home. What does it mean for the managers? Most of the preparatory work was done by management consultant Jurriaan Kamer, thank you for that. Most of the information is in English …
TIPS FOR HOMEWORKING
– There is also an extensive wiki for 'remote work'.
– If you work with scrum and you want to make remote retrospectives successful, read my article about retrospectives for a distributed team.
– There are games that work fine over a video connection. Such as Zoom Bingo below or the virtual escape room . Also nice: the Customer Experience Game in which teams compete against each other with the aim of a better customer experience.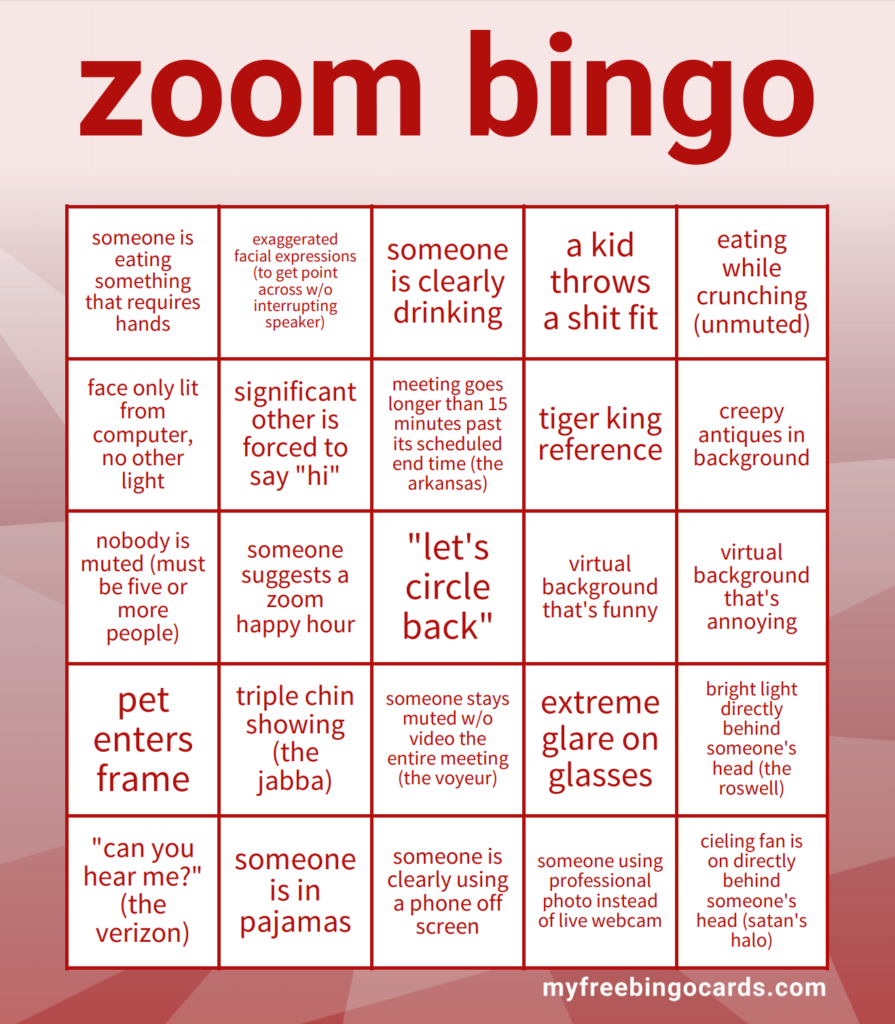 Pim from The Corporate Rebels shares five tips for better video conferencing on their blog .
There is a lot more to say about this (in fact about every) topic, but it hopefully gives an idea of ​​the opportunities and threats.
CORONA CREATIVITY
The arrival of Corona in '20 stimulates the creativity and inventiveness of entrepreneurs. It leads to great initiatives and unexpected partnerships. LSD coach Gerjon Zomer has made an overview of inspiring corona initiatives .